Pat Munro Surfacing Department Update
Posted on
Today sees Pat Munro's surfacing department undertake change as Lewis Donaldson, who has been with the Company for 4 years, is promoted to Surfacing Manager. Lewis will succeed our long-serving Senior staff member Andrew Gordon who plans to retire in late 2017, Andrew will assume the role of Surfacing Contracts Manager in the run up to his retirement. This change will allow Lewis to become the primary contact for our surfacing operations.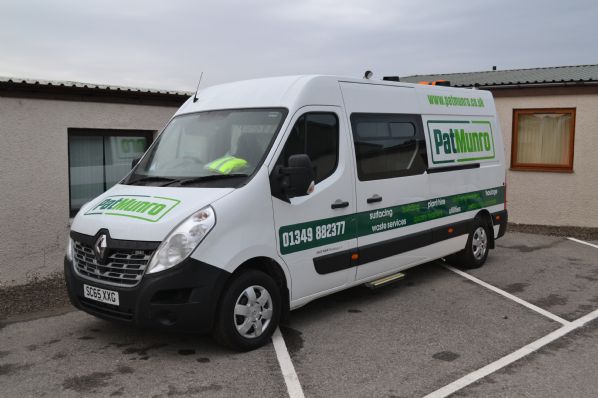 Along with this change today, our Surfacing teams receive the keys to their new welfare van. Pat Munro has made significant investment within its Plant & Equipment fleet over the last 4 years and this further investment marks our commitment in providing modern and tailored equipment to our individual needs. The van, a Renault Master has been converted to suit our bespoke requirements following consultation with our teams to suit their site requirements. The vehicle features a Kitchenette including food prep area, Toilet, Drying Space and clothing storage area, all areas of the vehicle are covered by LED lighting and heating to provide their welfare facilities wherever the job may be.
Currently the surfacing department employs over 20 staff, with 20 machines ranging from asphalt pavers to rollers which provides us the ability to undertake a wide variety of contracts, from small domestic driveways, to large public roadworks and infrastructure developments. We have recently successfully completed both phases of River Ness's Flood Alleviation project as well as multiple surfacing projects at HIE's new Inverness Campus.
For more details on the Company's Construction capabilities please visit our dedicated Construction page here. For all Surfacing relating enquiries please contact Lewis Donaldson on 01349 882377 or email.