The Pat Munro Foundation Update
Posted on
Our Belief
At Pat Munro (Alness) Ltd we recognise the importance of supporting our community, which is why in 2017, The Pat Munro Foundation was established to provide support to a variety of worthy causes within our local area. This includes, charities, community groups and other disadvantaged or social enterprise entities. Run by staff from Pat Munro (Alness) Ltd, The Pat Munro Foundation and members of "Team Pat Munro" organise and take part in a number of events throughout the year to raise funds to facilitate such support, with match funding provided by the company.
As The Pat Munro Foundation get together once a month to go through requests, we decided to start a newsletter to keep you up to date with the causes we support, along with the causes that Pat Munro support. Here's our update from August - October.
The Pat Munro Foundation

RNLI Raft Race
We were delighted to take a team in the RNLI Raft Race in August. Our team consisted of Brian, Lewis, Jack & Calum from Team Pat Munro, dressed up as the Teenage Mutant Ninja Turtles, with homemade costumes by our receptionist, Angi - great job!!
Delighted to support the RNLI Invergordon Lifeboat.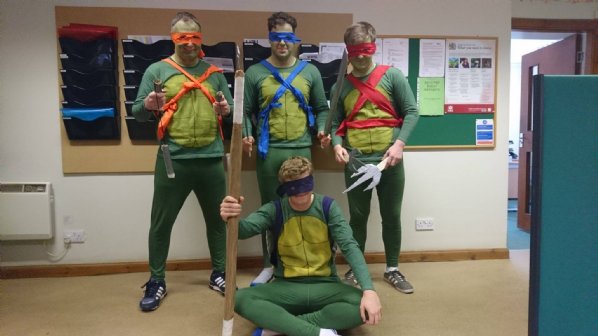 Ness Factor
We were approached by Caroline Devine to support her fundraising efforts before taking part in Ness Factor 2019. This was all about raising money for the Highland Hospice.
We were delighted to support Caroline with a donation towards the fantastic Highland Hospice.
Cuddle Cot in memory of precious Amelia
In September, we were approached by Charlie Vass whose baby was born "sleeping" 20 weeks early. Charlie was looking to raise enough money to donate a Cuddle Cot back to Raigmore Hospital.
We were delighted to make a donation towards this brave act in such tragic circumstances. In the end, Charlie and her partner James had raised enough money to donate two Cuddle Cots.
For more on this, have a look at this article: https://www.inverness-courier.co.uk/news/highland-mum-who-lost-baby-makes-big-hearted-gesture-to-help-others-185885/
Kaizen Kickboxing
The Pat Munro Foundation were delighted to sponsor Kaizen Kickboxing (Alness) Nessie Challenge in October.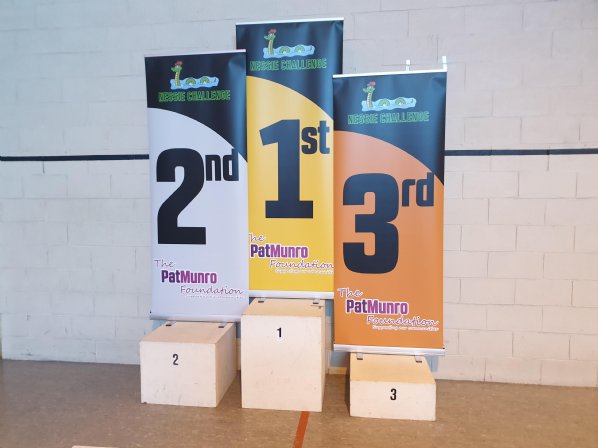 Tain Mountan Bike Track
We were approached a couple months ago to see if we could help resurrect the old BMX track in Tain to a mountain bike trail. The aim was to provide a much needed space for the children of the community.
The Pat Munro Foundation were delighted to donate towards materials needed to complete this project.
Strathpeffer Community Park Project
Delighted to support the Strathpeffer Community Park project. This is a community-led project that will have wide-reaching benefits. The community are looking at installing a new and improved play park and a bike dirt / pump track.
Lesley's 2020 Arctic Trek
In October, we made a donation towards Lesley's 2020 Arctic Trek, raising money for the When You Wish Upon a Star charity. In February of next year, Lesley will be trekking 70km into the Arctic Circle. You can also support her here: https://www.justgiving.com/fundraising/lesley-strang1
Good luck to Lesley from all at The Pat Munro Foundation!
Skate Park, Inverness
You may have seen that the Skate Park in Inverness was damaged last month. Pat Munro Waste were approached by the charity behind the skate park to see if they could hire a skip out to help with the clean up. The Pat Munro Foundation were delighted to step in and cover the costs of this skip hire.
Highland Construction & Property Karting Challenge
Hosted by Inverness Kart Raceway, The Pat Munro Foundation put a team forward for the above event, raising funds for DAY1 Mentoring, a Scottish based childrens and young person charty with a vision to help every child and young person in the Highlands of Scotland to achieve their potential.
Our team consisted of Kerry, Michael, Tony, Billy & James from Team Pat Munro, who all had a great time and were delighted to come away with 3rd place.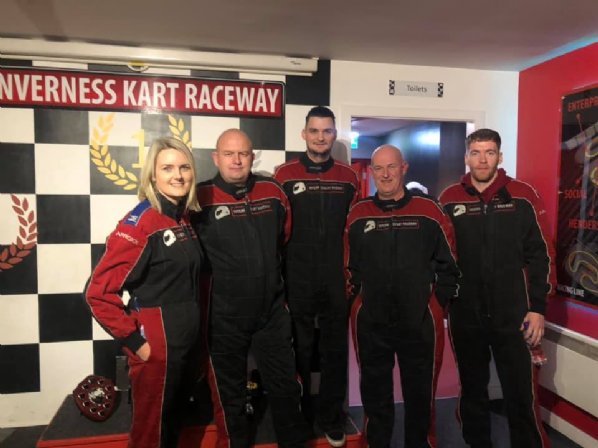 Coffee Morning - Marybank
We were delighted to support the coffee morning in Marybank Hall in October. This event helped raise vital funds for Pacreatic Cancer Action. This event managed to raise an amazing £2268!!
Well done to all involved.
Pat Munro (Alness) Ltd
Celebrity Golf, Golspie
In September, Golspie Golf Club hosted their Celebrity Golf event, raising money for the Silver Rock Foundation, a local charity which aims to benefit young people in the Scottish Highlands with funding and experiences to enable talent to flourish.
We were delighted to support this very successful event.
Blasto to Gasto Charity Cycle
Some of the team from Scottish Water approached us looking for donations towards their challenge, which included a 48 hour non-stop cycle of the newly launched North Coast 500 scenic tour of the Highlands while collecting funds for their chosen charities WaterAid and Highland Hospice.
They cycled 500 miles in a relay from Fort William to the Glastonbury festival of contemporary performing arts in Pilton, Somerset.
Huge well done to the team that took part!
Come Dancing with Poppy Scotland 2020
One of our team members' daughter, Farri Fox, had approached us on the hunt for a corporate sponsor for her role in the Come Dance event organised by Poppy Scotland. We were delighted to take on the role as Farri's sponsor, supporting a great charity at the same time.
This fantastic event takes place on February 29th 2020, if you would like to donate, you can do so here: https://www.justgiving.com/fundraising/farri-fox-comedancing?fbclid=IwAR03lydNcLEewOVPAC2hSehUYAup0dEVR971jCedNXetJCPzntj8YTALjKk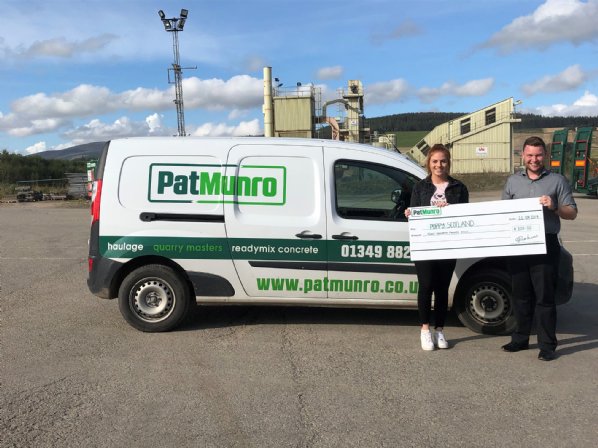 Coulhill Primary School, Alness
We were delighted to donate a number of Pat Munro waterproof jackets to the staff at Coulhill Primary School, helping them be safe and cosy throughout the winter when they're out and about.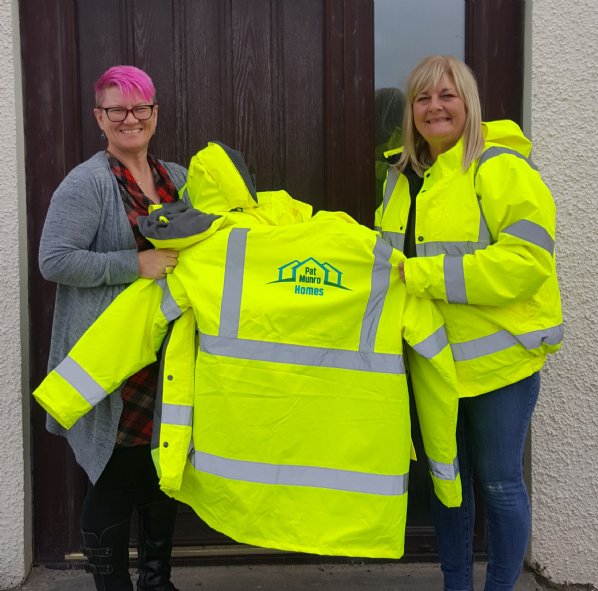 West End Community Centre, Alness
The team of volunteers at the West End Community Centre in Alness were getting busy painting and re-vamping the hall, so we were delighted that they approached us to see if we had any white shell suits to help them get the job done - without getting in a mess.
We hope the team got on well with the painting.
Archie's Moonlight Ball
The Pat Munro Foundation team were delighted to attend Archie's Moonlight Ball raising money for The Archie Foundation, the official charity of the Highland Children's Unit at Raigmore Hospital in Inverness. They create amazing hospital environments, enhance staff training, buy toys and much more.
They had such a good night that we don't have any group photos!