Foundation Apprentice joins Pat Munro (Alness) Ltd
Posted on
Foundation Apprentice joins Pat Munro (Alness) Ltd for a 2 week summer work placement.
Senior student Stuart Gallosi from Fortrose Academy has been attending the Foundation Civil Engineering course at Inverness UHI one day out of his school week, where he has been able to gain invaluable work experience and will achieve a recognised qualification.
By giving Foundation Apprentices the opportunity of work experience, Pat Munro believe it will open the students eyes to the wide range of job roles that the company and the industry can offer. Not only will this give young people the chance to experience the working world but it also gives employers the opportunity to identify potential future employees, increasing the opportunity a more diverse workforce to help prevent a skills shortage and support industry growth.
Keeping in line with the company's vision of "building for the next generation", Pat Munro recognise that this cannot be achieved without engaging with young people, including the full suite of apprenticeships (of which the Foundation Apprenticeship is one). With experienced employees, Pat Munro have the skills and expertise to pass on and inspire young people and new apprentices in their chosen career path.
Pat Munro continue to support the Foundation Apprenticeship programme where pupils get to build the skills they'll need to be successful when they leave school.
Here's a photo of Stuart during his time here: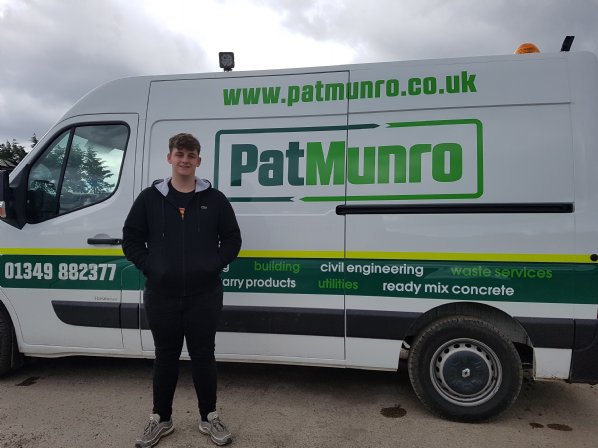 For more information on Foundation Apprenticeships:
Check the apprenticeships.scot website here
Or have a look at Inverness UHI's website here