Wednesday, January 11th 2017
Invergordon Tyres – Finishing Touches

2017 gets off to a good start with the finishing touches now being applied at the New Tyre Workshop for Invergordon Tyre Services. With internal Full Story...
Monday, December 19th 2016
Pat Munro - Festive Opening Hours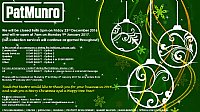 We will be closed from 5pm on Friday 23rd December 2016 and will re-open at 7am on Monday 9th January 2017. In the event of an emergency during Full Story...