70 for 70 challenge
Posted on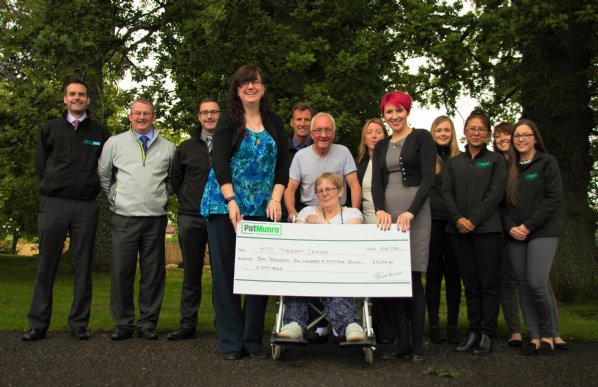 Team Pat Munro recently completed a 70km charity walk in aid of The MS Therapy Centre in Inverness raising over £10,000.
The 70 for 70 challenge was devised to mark the end of Pat Munro's 70th Anniversary year.
The challenge was to walk the 70km from the Dornoch Bridge Quarry to their Lotland Street Depot in Inverness. There was a team of 19 over the whole day with two of the team completing the entire 70km in 14 hours 46 minutes.
Commenting on the achievement, Pat Munro's Operations Director, Mark Bramley, said "The team deserve great credit for their effort in raising such a significant sum for the MS Therapy Centre Highland. It is a relatively small local charity whom I know will make really good use of the money that the team raised. It's important for us as a business to be involved in our community and we are very proud that our staff have embraced this."
The money raised will make a big difference to the Centre and their members. For example the sum of money raised will fund their hyperbaric oxygen chamber for 12 months; covering the cost of the medical gases and part-funding the chamber operator. The MS Therapy Centre is a small independent charity who are completely self-funded and it is only through the continued support of local groups and fundraisers that they are able to remain providing support to those living with long-term conditions.
Some statistics from the day:
Distance covered – 70.1674 km
Average pace was 20min a mile
Average temperature was 18.4oc
Highest Temperature 24oc
Total Time 14:46 hours
Moving Time 13:44 hours